Welcome to Frenchy's Lawn & Tree Service!
Frenchy's professional staff is truly dedicated to serving their customers and providing the finest Lawn & Tree service in the business. They have learned from one of the hardest working and most caring people in Denton, Texas - Frenchy, himself!
A true pillar of the Denton community for over 20 years, Frenchy has a true passion for taking care of others. He parks his "Van of Fame" around Denton to recognize Denton people, places and events.
Frenchy is loyal and true to his word, rarely missing a community event. So, when you see the orange vans around town, just know that they are going to or returning from a day of serving the people of Denton.
Services
Lawn Care Services
Frenchy's is the premiere lawn care service in the North Texas area. Ask us about our maintenance contracts!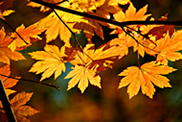 Tree Services
Frenchy's provides quick same-day tree services; including pruning, planting, removal and haul-away. No job is too big!
Landscaping Services
Frenchy's is definitely more than just mowing and pruning services. Frenchy's offers a complete line of landscaping services.
Complete lawn, tree and landscaping services
If you don't see the service you're looking for in the list below, give us a call at 940-387-3164, email us at frenchy@frenchyslawns.com, or request an esimate.
Mowing
Edging
Metal edging or Adding Mulch
Plant and/or clear out flower beds
Weed eating
Plant shrubs & trees
Fertilize
Trim or remove trees
Trim bushes
Complete clean-up
All debris hauled off
Tilling
Aerating yards
Fall leaf clean up